Case Study: 3D Laser Scanning of Boiler Room Building for Siting of New Equipment
PROJECT UPDATE - Client Requests TruePoint to Return to Site for Additional Laser Scanning
Location: Finger Lakes Region, New York
Task: TruePoint was requested to return to the site and laser scan additional areas of the facility, capturing structure and equipment for the siting of new equipment. Data was to be tied to scans from a previous mobilization. TruePoint also provided 3D Modeling services associated with the scan data.
Challenge: There were particular areas of the facility that needed to have structural steel modeled. Utilizing the latest software and proprietary extraction techniques, TruePoint was able to align the client's existing structural steel model with the point cloud data. Efforts were focused only on areas relevant to the client's needs for the project.
Solutions: TruePoint's CAD technicians were able to communicate directly with the field technician, post processing team and the client's modeling group to ensure the most accurate and comprehensive set of data was delivered.
Deliverables: TruePoint's experienced team provided Point Cloud Data and a 3D AutoCAD model including structural steel, stringers for stairs, floors, walls, pumps, tanks and conveyor belts.
Added Value: TruePoint was familiar with the site and captured the data quickly, saving the client weeks of time. Streamlined processes at TruePoint efficiently move data collected from the field into model production. All 3D Modeling is performed quickly in-house using CAD technicians who are experienced manipulating complex point cloud data.
Client Testimonial: "You guys bailed us out big time on the [project] work and we are very appreciative of that." -Steve H., Project Manager
If you have a project where gathering the necessary field data is complex, costly, or time-consuming, consider the use of laser scanning, which is both efficient and effective. Call our Corporate Office today at 419-843-7226 to discuss your needs.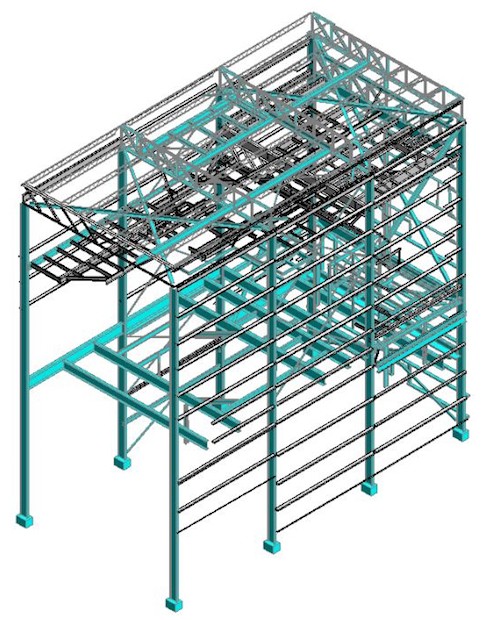 3D Model of Plant Structure