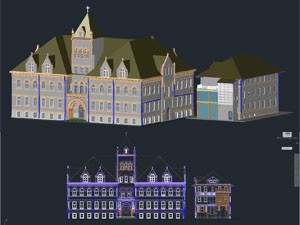 Case Study: 3D Laser Scanning of A Historical Building with Detailed Façade Features
Location: Historical church building in Toledo, Ohio
Task: To scan the exterior of the church and adjacent school building in order to capture the dimensions and features of the two buildings.
Challenge: The church is a historical building with detailed façade features, tall church tower, and a roofline that is difficult to reach. In addition, as with most older buildings, there are many variations of window sizes, variations of the placements of windows, and "true-ness" of angles. The building's intricacies are not easily accessible and, due to tall trees and landscaping close to the building, it is difficult to even take pictures of the structure.
Solution: TruePoint Laser Scanning, Inc. was hired to capture the actual dimensions and features of the building. Using its high definition scanning technology, TruePoint was able to capture all of the exterior features of the building safely from the ground, including the roofline and ornate details on the tower.
Deliverables: TruePoint provided the client with a point cloud, as well as TruView and 3D Revit models.
Added Value: Laser scanning technology is accurate and efficient, and time was of the essence for this project. Being able to capture, analyze, and define the data quickly was important. Additionally, not only was TruePoint able to provide the client with a precise 3D model complete with cross sections of the façade detail, but TruePoint was also able to capture the information safely from the ground. Traditional methods of obtaining measurements and specific building details would have been difficult, potentially dangerous, and not as accurate. Lastly, although it was nearly impossible to even see the front of the building, laser scanning allowed for capturing such detail from multiple angles in order to create one model with the complete structure documented.
If you need an accurate as-built of the exterior or interior of a building or need to capture highly detailed features with exactness and precision, contact TruePoint Laser Scanning at 419-843-SCAN (7226) or info@truepointscanning.com to find out how 3D laser scanning can benefit you.