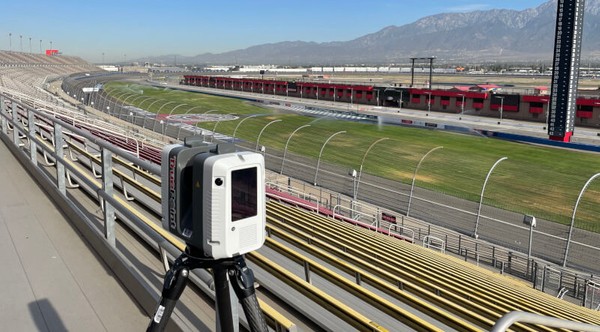 3D Laser Scanning NASCAR's Auto Club Speedway
Location: Fontana, California
Task: Los Angeles's Auto Club Speedway is usually full of NASCAR fans and race teams, but on this quiet day, they brought in TruePoint 3D Laser Scanning to capture as-built site data and create a 3D colorized point cloud of the grandstands, main concourse, and the substructure elements beneath the track itself. The track encompasses 130 acres and has a grandstand capacity of 68,000 with 28 sky boxes.
Challenge: The client wanted to verify the site's as-built conditions and compare to the existing drawings before beginning construction to upgrade the upper suite area of the Speedway.
Solution: Scanning was completed in 8 hours with a Leica P-Series laser scanner and a Leica RTC360 laser scanner. The Leica P-Series scanner is equipped with a survey grade dual-axis compensator, and was used to level the point cloud. And the RTC360 is one of the best laser scanning units on the market – it is fast, accurate, lightweight and offers point cloud colorization. The Leica RTC360 scans at a rate of two million points per second and captures a full-dome HDR image in one minute. This means we can complete a full high-resolution scan of your project in two minutes per scan location with true HDR imagery.
Deliverables: A colorized point cloud (Autodesk Recap files in .rcp format) was delivered to the client. Accurate colorized point clouds can greatly increase the information content of the point clouds, therefore making the point clouds more effective in communication.
Added Value: By using laser scanning on this project, the client received an accurate, detailed colorized point cloud of the facility without ever having to leave their office. In a complex environment such as this Speedway, color laser scans allow the client to view site structure and construction materials more easily.
If you need as-built documentation, existing conditions surveys or colorized point clouds, 3D laser scanning is an extremely accurate and efficient way to gather necessary field data. For project inquiries in California, call TruePoint Laser Scanning at 310-299-6038 or email losangeles@truepointscanning.com.
For 3D laser scanning services in California, contact us below: