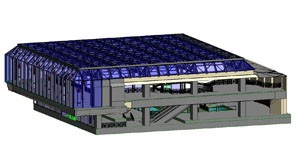 3D Laser Scan for a Construction Firm
Case Study: 3D Laser Scanning Model for Construction Verification of Steel Structures
Location: Downtown Chicago, Illinois
Task: The construction management firm needed to determine the size and location of steel beams and structure located two stories above the hotel atrium entrance for renovations that were going to take place.
Challenge: Using traditional methods to measure the steel structure were not possible due to their height above the ground and no scaffolding or lifts could be used to access the steel since the hotel lobby could not be closed or its traffic impeded.
Solutions: TruePoint Laser Scanning was brought in to laser scan the steel beams and surrounding lobby area in order to get all of the necessary information. Laser scanning made it possible to maintain the hotel lobby's traffic and activity while quickly capturing the dimensions safely from the ground.
Deliverable: The client received a 3D CAD model and a Revit model (shown above).
Added Value: TruePoint was able to provide a solution that met everyone's needs while giving the construction manager more information than they could have gathered themselves. The hotel's objection to having to close the lobby or creating an inconvenience or unsafe environment for their clients was met, while giving the construction management firm a safe, fast and accurate way to gather more information than they could have done otherwise.
If you have a project that requires gathering dimensions or information that is difficult or impossible to reach due to its location or other considerations such as traffic, contact TruePoint at 312-448-1509 or chicago@truepointscanning.com to discuss your needs.