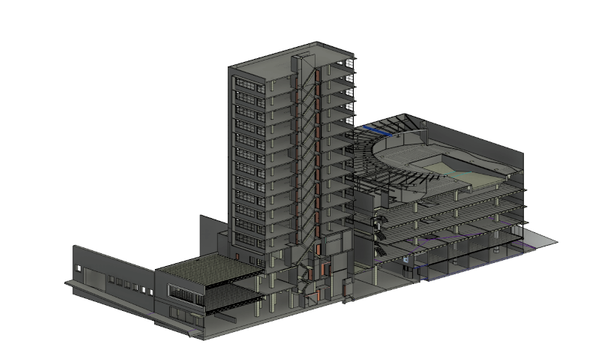 3D Laser Scanning for Building Redevelopment
3D laser scanning quickly collects accurate measurement data of the current as-built conditions for any redevelopment project. Point cloud data is used to create a 3D model and assist with the design phase. This architectural client utilized TruePoint 3D laser scanning and 3D BIM modeling services to expedite the planning, construction and redevelopment of a vacant hotel.
Location: Tyler, Texas
Task: Two Architectural Firms joined forces to renovate a vacant hotel.
Project Application: Laser scan and 3D model a 15-story hotel and adjacent parking garage for building redevelopment.
Problem
The restoration called for renovating and converting the 130,000 sq. ft. property to create 100 residential units.
Most floors of the building were completely gutted, with only the exterior envelope and interior circulation core remaining.
With two architectural firms, this project involved many professionals and much planning before a shovel ever hit the ground.
Solution
The developer was investing $30 million in this construction project, and requested an as-built model in a cloud-based platform to document, view, and plan for building renovations.
With a 3D model, the architectural team was able to view the existing conditions at the onset of the project. The team then updated the model as needed throughout construction.
The 3D model allowed the firms to communicate construction requirements to the general contractor.
Benefits
3D laser scanning captured accurate as-built details of the deteriorating conditions of the vacant building.
The architectural team relied on the 3D model to plan for the restoration while keeping historic elements intact.
The 3D model improved communication and collaboration across a large and diverse project team.
For 3D laser scanning services in Texas, contact us below:
Images for the Renovation of a Vacant Hotel