3D Laser Scanning for All Phases of Construction

Laser scanning accurately captures, maps, and visualizes the 3D geometry of a building or project site. The scan data or point cloud data is uploaded and processed into a file that can be loaded into modeling software. By implementing this into every phase of a construction project, architects, engineers and contractors can increase accuracy and reduce risk.
DESIGN PHASE: 
Capture accurate infrastructure and measurements in minutes.
Leica laser scanners capture millimeter-accurate as-builts, even in densely populated facilities and while plants are in operation.
3D laser scans can be delivered as a point cloud, or in customizable 2D & 3D drawings, maps, mesh and BIM models.
Matterport offers rough measurements and locates important features.
CONSTRUCTION PHASE: 
Prevent change orders with instantly accessible real-time data.
Point cloud data and 360 imagery documents construction progress.

3D laser scans discover unanticipated conditions so its easy to locate, tag and fix them later.
Real-time data makes communication and collaboration smoother and faster.
POST CONSTRUCTION: 
Eliminate costly mistakes with instant visualization.
3D laser scans capture complete and updated as-builts for the finished project, so you can add notes and specifications to simplify future retrofits and renovation.
Up to date as-builts, captured with millimeter accuracy simplify facility operations, and make tenant finishes and remods much easier because everyone can visualize existing features instantly.
"The point cloud and model worked out tremendously well. Documenting the existing building conditions the usual way would have been extremely difficult."  N. PELLIZZARI -- ARCHITECTURE & PLANNING PROFESSIONAL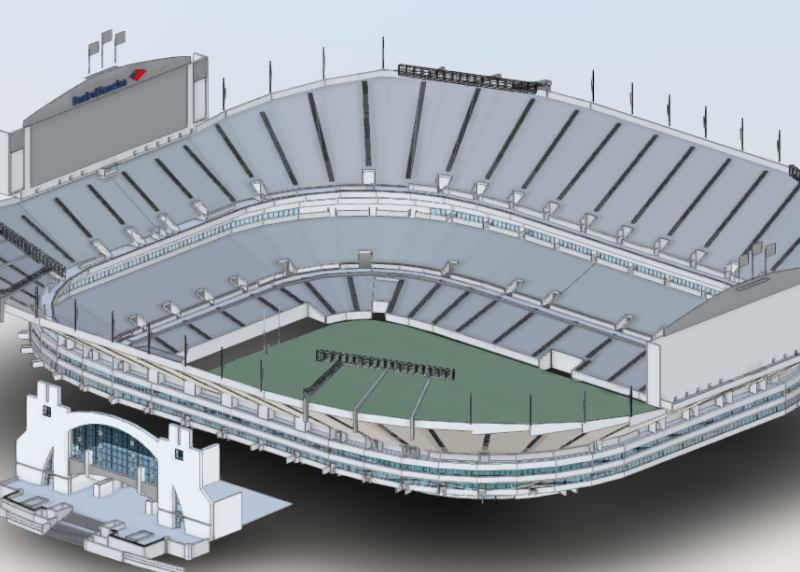 3D LASER SCANNING STADIUMS
"We entrusted TruePoint to fly around the country and scan several NFL stadiums. They are the best in the biz at what they do."
DAN P. -- MANAGING DIRECTOR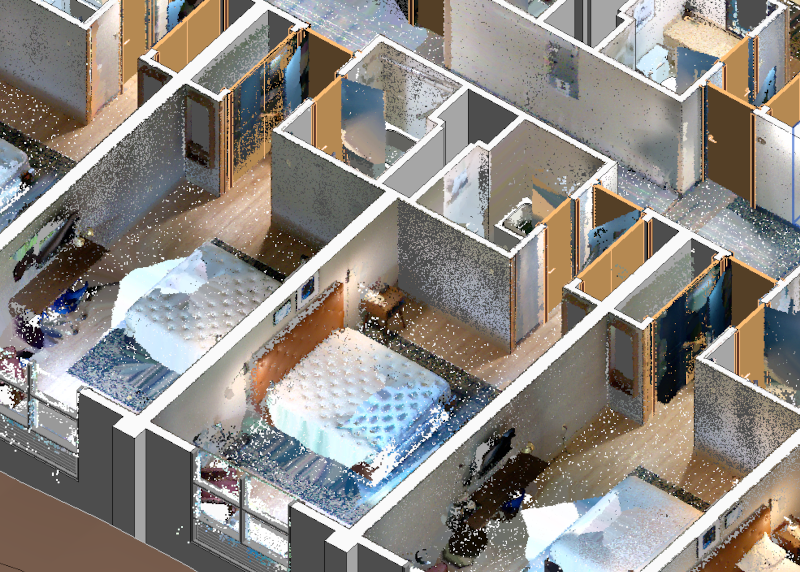 3D LASER SCANNING HOTELS
Hotel renovations required an as-built data and a 3D model. Image shows the Revit model with NavVis VLX laser scan data overlaid in color.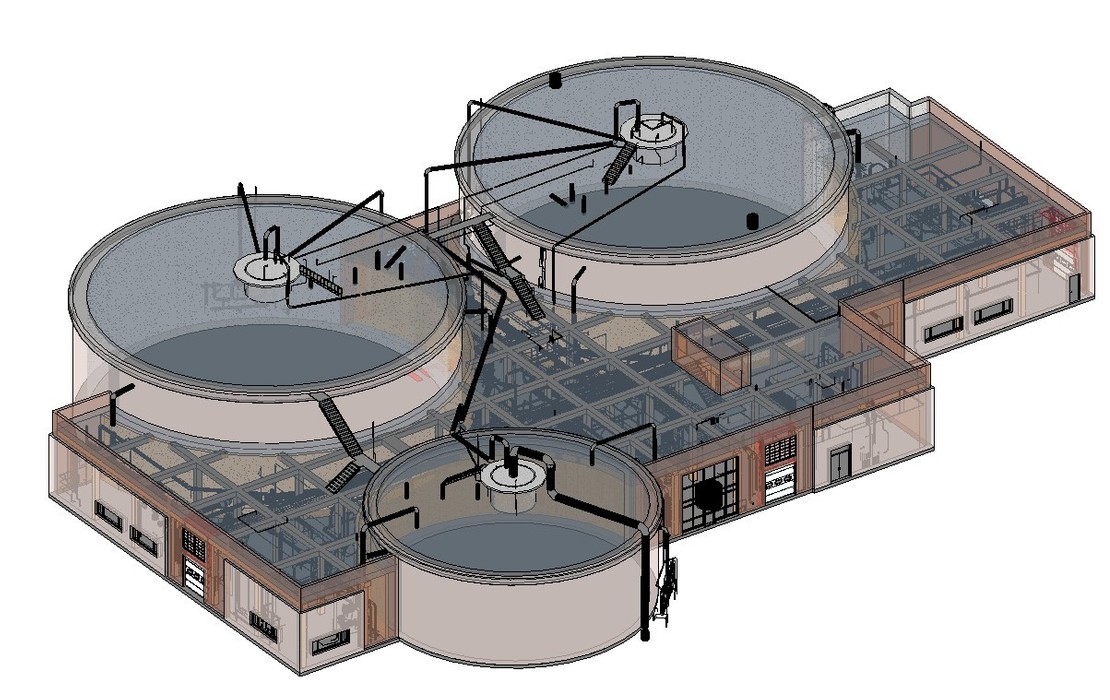 3D LASER SCANNING WATER TREATMENT FACILITIES
59 acres and 27 buildings were 3D laser scanned to provide complete as-built documentation of a Colorado Wastewater Treatment Plant. This 3D model of the digester facility is accurate to within millimeters.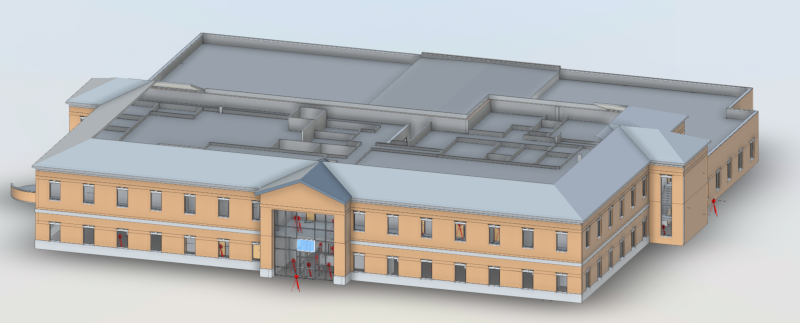 3D LASER SCANNING OFFICE SPACE
"Scans are one of the most amazing tools we use right now. At the estimating stage, it's critical. Many details are missed if you only have a 2D drawing. With a laser scan we can visually see complex areas, height differences, and material changes like you're there in person."
CHRIS L. -- PRECONSTRUCTION SERVICES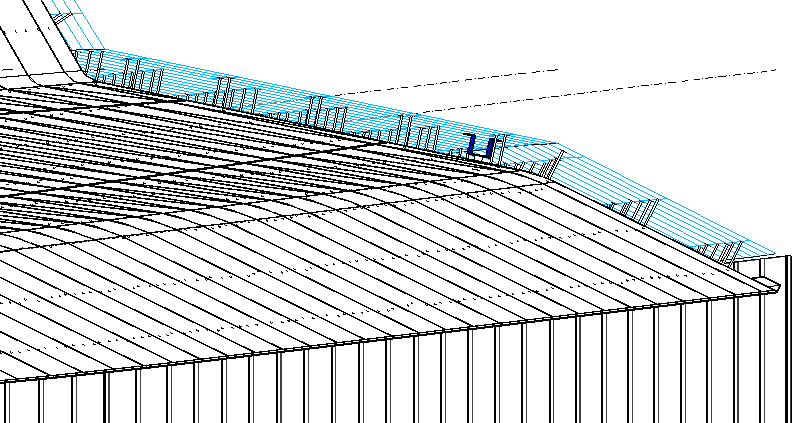 3D LASER SCANNING TO EXPEDITE THE INSTALLATION OF ACM PANELS
Our client was installing ACM (Aluminum Composite Material) panels to the canopy of a newly constructed airport terminal.
"TruePoint has changed the way we field measure, layout, and install projects."
VINCENT N. -- SUPERINTENDENT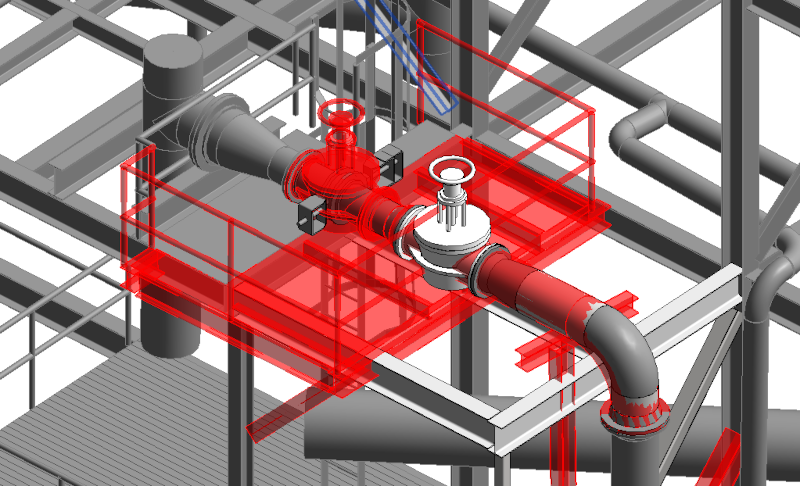 3D LASER SCANNING MANUFACTURING FACILITIES
TruePoint 3D laser scanned the structural steel, equipment and MEP piping in this manufacturing facility and create a 3D model to help the client plan the routes of the new piping. The Revit model shows an example of the facility's proposed renovations. Red indicates items that will be removed.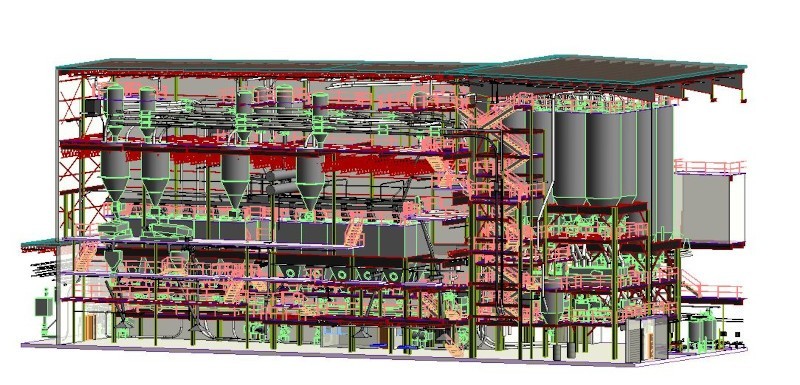 3D LASER SCANNING PROCESSING PLANTS
Point cloud data and part of the 3D BIM created for a processing plant in Kentucky. 40,000 sq. ft. and 7 levels of elevated platforms containing product packaging equipment were captured with millimeter accuracy.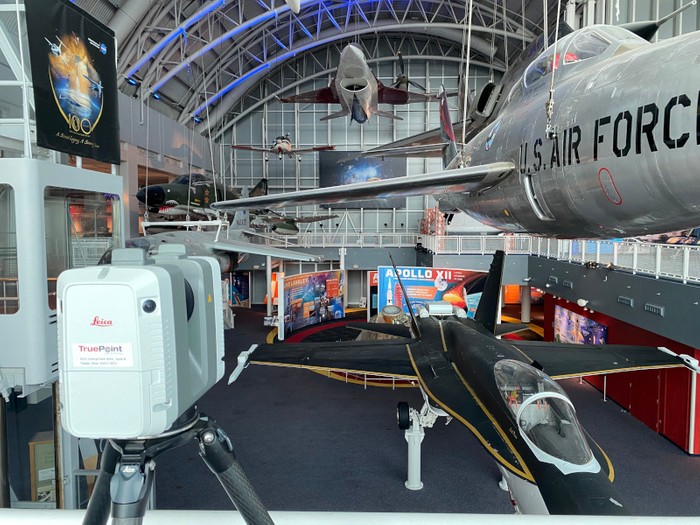 3D LASER SCANNING THE VIRGINIA AIR AND SPACE MUSEUM
The museum's design team wanted a digital representation of the space to begin design planning and renovation.
"TruePoint had a quick turnaround on deliverables that saved time within the project. We look forward to working with them on future projects."
MICHAEL T. – DIRECTOR OF FACILITIES
If you're considering laser scanning and need help answering any questions or determining if laser scanning is right for you, contact us at 419-843-7226 or email info@truepointscanning.com and our team can assess your needs and help you determine your best course of action.