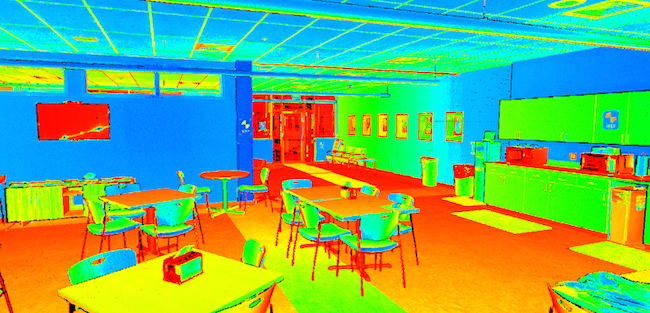 Intensity map data used to create a 3D model.
Case Study: 3D Laser Scanning Corporate Office Building
Location: Boulder, Colorado
Task: To provide the client with an accurate floor plan of the existing corporate office building.
Challenge: The client's offices are growing at a rapid rate and they are running out of room in their current buildings. With the amount of renovations that have occurred over the years, the drawings are inaccurate and no current digital drawings exist. Also, the building is over 60,000 square feet and has a very complicated layout, making manual hand measurement methods difficult and time consuming.
Solutions: Using our Leica scanners, TruePoint's Denver office was able to capture all the data needed for the deliverable. With the client's office being active at the time, we were able to scan nights and weekends and in only three days we took hundreds of scans on two floors while avoiding shutting down current operations.
Deliverables: The client is working with architects and engineers to better utilize the space they have. TruePoint's architects and engineers were able to work with the client's team to create an accurate 3D Revit model of the building floor plan for them to use in the remodel process.
Added Value: If you are in Colorado and are in need of as-builts, construction verification, or architectural documentation, call or email our Denver office for a quote. Contact Dave Schaff at 720-618-1029 or email at denver@truepointscanning.com
Want to hear more about our different applications? We offer Lunch 'n Learn presentations at your office!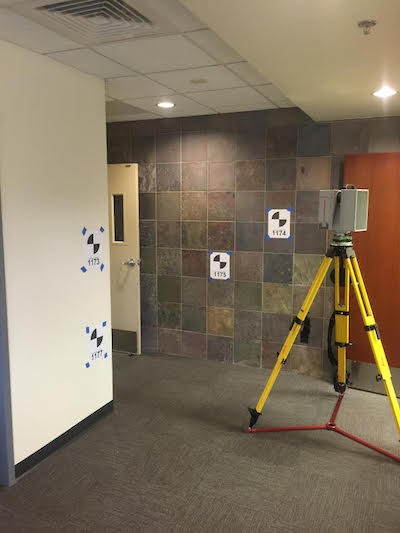 TruePoint's Denver office scanning the building with an HDS7000 scanner to create an accurate floor plan.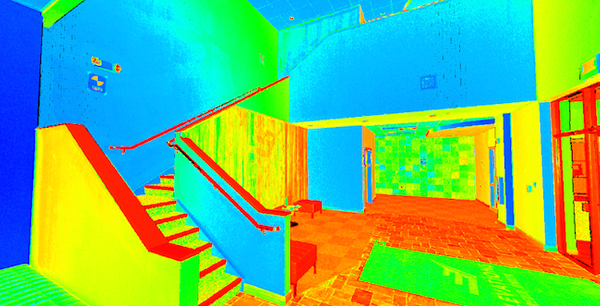 Intensity map data of the lobby area.