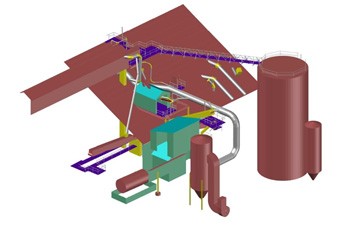 3D Model of key features of plant (overhead conveyors, piping, chutes, tanks, shelter houses, roof line, steel support structure, etc.)
Case Study: 3D Laser Scanning and Modeling Services of a Quarry Plant
Location: Near Sandusky, Ohio (Millersville, Ohio)
Task: To capture dimensions and locations of key features in lime plant, such as overhead conveyors, ductwork, piping, chutes, hoppers, shelter houses, exterior building footprints and steel structure support.
Challenge: As is true with most plant environments, the space is congested, highly complex and in operation. To add additional complexity to the site, lime residue covers every surface, which can be extremely slick and is an irritant to skin. Using traditional field measurement techniques would have been slow, cumbersome, inaccurate, and potentially dangerous.
Solutions: By using 3D laser scanning, which is a non-contact measurement tool, TruePoint was able to set up the scanner on the ground and a variety of other safe locations in order to capture the necessary information. Not only did the scanning capture the dimensions safely, quickly and accurately, but it also allowed for uninterrupted operations of the facility while the laser scan survey was being completed.
Deliverable: The client received a registered Point Cloud file (.pts, .rcp and .rcs files) importable into AutoCAD, TruView's (or 3D photogrammetry from scanner's perspective), and 3D AutoCAD model with the point cloud file xref'd into the .dwg CAD file.
Added Value: Working closely with the engineering firm, TruePoint was able to model only the specific features that the client was interested in; therefore, reducing the overall modeling cost while providing the client exactly what they needed. Then, by x-reference, the point cloud can be turned on/off directly in the AutoCAD model so that other features that were captured in the scan, can be seen inside the model. This helps with overall visualization of the site as well as clash detection and prefabrication.
In addition, the client was interested in being able to determine where future conveyors and pipes would penetrate the exterior structure. By scanning on the interior and exterior of the space and tying the scan data together, the client is able to see exactly where these penetrations from exterior to interior occur.
If you are in need of as-built documents of your space, contact TruePoint Laser Scanning, LLC. at 216-470-7262 or cleveland@truepointscanning.com today to discuss your needs.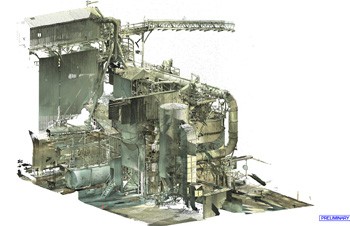 Colorized Point Cloud of Facility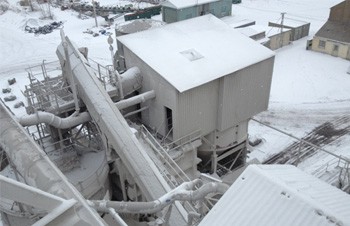 Photograph showing overall complexity of site