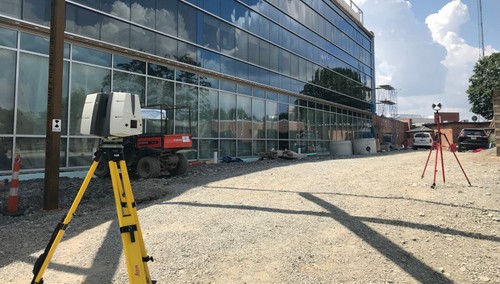 A Leica P-Series 3D laser scanner capturing a building façade utilizing targets to guarantee an error-free registration.
Case Study: 3D Laser Scanning Aids Accurate Off-Site Fabrication
"Off-site manufacturing of components is always a gamble. Creating an as-built survey point cloud to verify the specifications with 3D data saved time and more importantly costly surprises." -Karl Hofmeister, Project Manager
Location: Marysville, Ohio
Task: The hospital was under construction when TruePoint was asked to capture as-built dimensions of the structure's exterior. Because the project included an addition to the current structure, the roofing contractor required a 3D laser scan of the original building conditions in order to have building components such as soffits and fascia accurately fabricated off site. TruePoint 3D laser scanned 600 linear feet of exterior building façade and created 2-dimensional drawings from the data documenting the requested as-built specs.
Challenge: During construction, it is quite common for discrepancies to exist between plan specifications and actual as-built dimensions. Understanding this challenge, the client wanted a laser scan to ensure that the building components being manufactured off site would fit correctly when installed onto the existing structure later.
Solutions: This medical facility is a multiple level structure and obtaining as-built dimensions through use of hand measurements would have required a considerable amount of time, site coordination, and manpower. These measurements would also still be prone to a significant amount of human error. TruePoint was able to quickly mobilize a team and accurately capture 3D laser scan areas of the site with the Leica ScanStation P50 within a few hours.
Deliverable: TruePoint delivered to the client registered intensity map point cloud data and 2D exterior elevation drawings in AutoCAD 2017 – quickly and electronically.
Added Value: Laser scanning services by TruePoint provided the roofing contractor fast and accurate data saving both time and money for the client. Any amount of dimensional guesswork was eliminated from the fabrication process and the headache of taking hand measurements of features 30-40 feet above grade was avoided.
TruePoint has extensive experience 3D laser scanning for various health services, including Hospitals, Physician Practices, Nursing Homes, Rehabilitation Centers, Urgent Care, and Sports Medicine. For more information on 3D laser scanning services in Columbus, Ohio call 614-800-0378 or email columbus@truepointscanning.com.
Close up intensity map point cloud of hospital main entrance.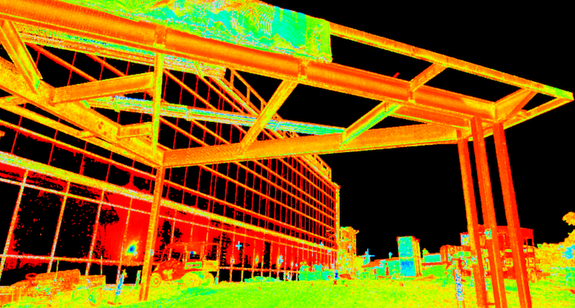 Intensity map point cloud of building exterior.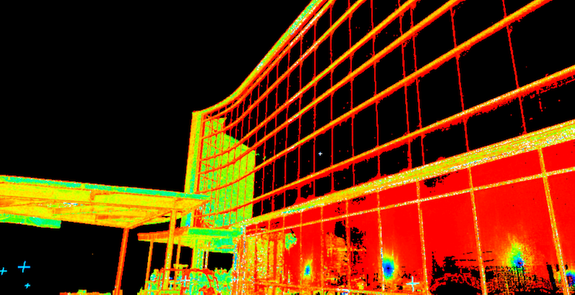 Intensity map point cloud of building exterior.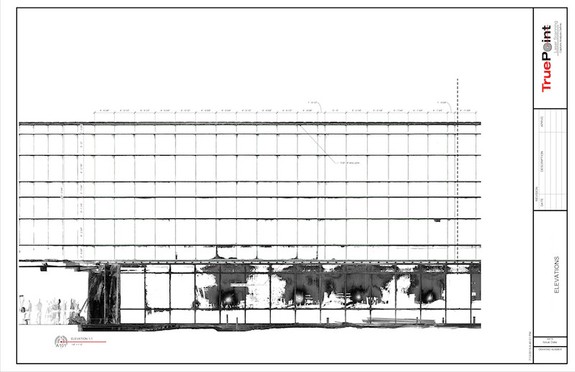 2D elevations of façade for prefabricating roofing components.