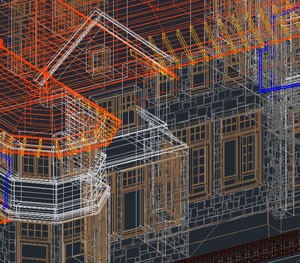 Case Study: 3D Laser Construction Surveying for Future Renovations
Location: A residence outside of Milwaukee, Wisconsin
Task: The entire exterior of a residence needed to be scanned in order to map all of the existing stonework and its exact location so that it can be removed and, then, replaced after future renovations.
Challenge: During renovation of a residence, a large portion of the exterior stonework needed to be removed and then reinstalled upon completion of the construction. The challenge was finding a way to document the exact location of each unique piece of stone, so that when it was time to put the stonework back on the home, it could be put back in the same location.
The second challenge was documenting the existing roofline of the complex roof, with little to no ability to reach certain parts of the roof in order to measure it manually.
Solution: By using 3D laser scanning to scan the entire exterior of the home, each piece of stone could be documented and mapped to its original location and orientation. Additionally, if dimensions or other details are needed during future construction processes, having the scan data also allows the client to extract other necessary information, as well as giving them the ability to review the 3D dimensionally-accurate photographs of the stonework and the home's exterior detail.
By scanning the entire exterior of the home, with only a few scans from the flat portion of the roof, TruePoint was able to capture all of the intricate details of the roofline and its dimensions.
In addition to the scan data, TruePoint was able to provide the architect and construction management firms with a CAD model of the entire roofline and exterior of the home, with select areas of the home's stonework detailed in the CAD model to use for the planning, documenting, and construction processes of the home.
Deliverables: Final deliverables included a point cloud model, a TruView, and a 3D CAD model of the entire exterior of the home.
Added Value: Capturing all of the stonework and roofline in a complete, quick, and cost-effective manner kept the architect from needing to spend a significant number of hours on mapping out, with less accuracy, the layout of the stonework and roofline. Additionally, using the scanner's on-board camera to fully document the stonework not only in the point cloud, but also in a 3D photograph, was another benefit of the process.
If you have an existing building and need an accurate detailed model of it or want to document its existing condition, call TruePoint Laser Scanning, Inc., at 419-843-7226.