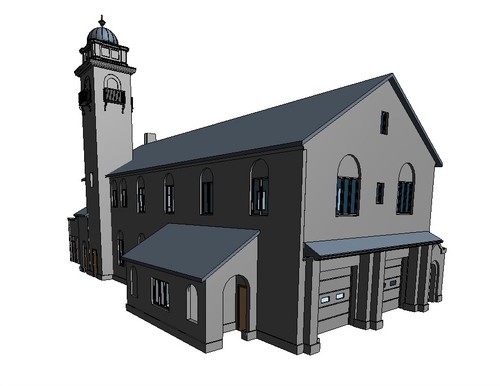 Orthographic View of the Fire House Exterior
Case Study: 3D High Definition Scan of a Historical Fire Station
Location: Toledo, Ohio
Task: To capture the architectural and structural detail of the exterior façade of a historic firehouse being renovated and updated to handle current needs of the fire department.
Challenge: The building was built almost a century ago, so no as-builts or as-is drawings were available. This building is considered a historic building and was built by a now well-known architect. The architect handling the renovations wanted to keep the existing architectural detail the same while modifying the space in order to meet the fire department's needs. As is true with a lot of buildings, many of the architectural features are inaccessible without scaffolding or a lift. Even then, the amount of time and manual labor to capture this detail, with what would be a fraction of the accuracy of laser scanning, is costly. For example, the fire hose tower, which stands approximately 60' above ground level, would have been difficult to reach even with a lift, but it can easily be captured from the ground by using laser scanning.
Solutions: Exterior building facades and architectural detail are great applications for laser scanning, as the measurements can be taken quickly, accurately, and safely from the ground. By utilizing laser scanning, the client was able to eliminate the need to send personnel to the building to manually gather the necessary information. Additionally, the cost associated with a manual process, including the lift or scaffolding, was eliminated as well.
Deliverable: For this project, the client received the point cloud file (importable into AutoDesk products such as Revit), TruViews (3D images), and a Revit Model of the building façade.
Added Value: Not only was the information more accurate than manual field measuring, but the client did not have to take personnel away from their other tasks to complete the field measure. By eliminating the cost of the personnel and lift or scaffolding, the client was able to more than offset the cost of the laser scanning.
If you have a building structure that is intricately detailed or otherwise difficult to measure, or if you simply have a project that requires more accuracy and detail than can be achieved through manual field measuring, contact TruePoint Laser Scanning today at 419-843-7226 or info@truepointscanning.com.
Picture of Historic Firehouse Hose Tower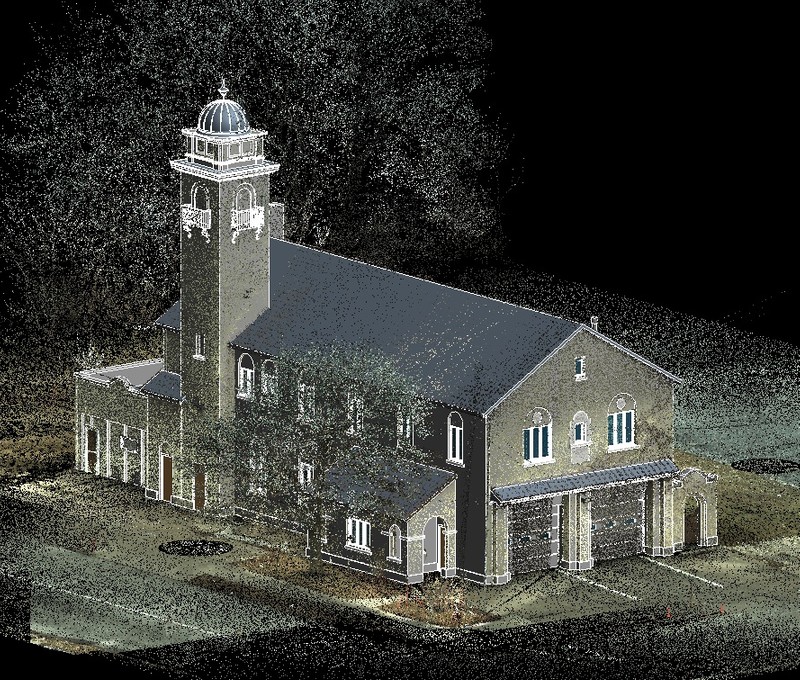 Point Cloud overlaid on top of Revit model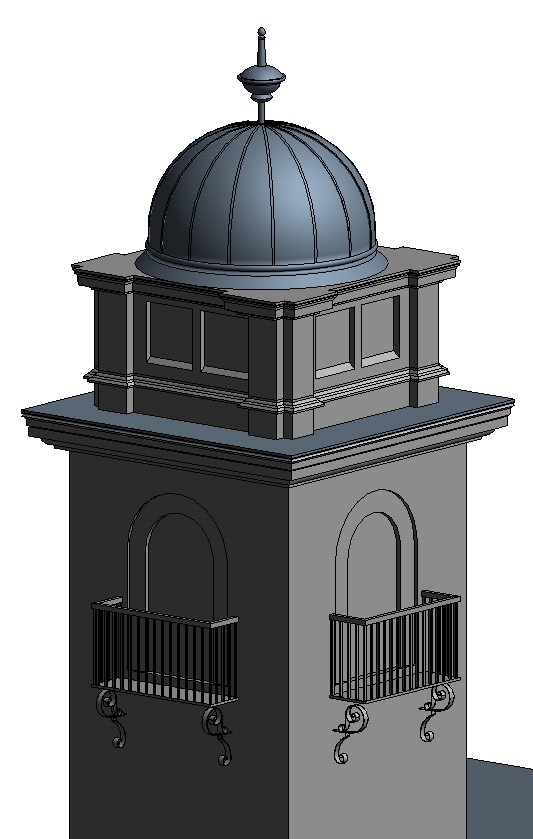 Detailed architectural view of Firehouse Hose Tower Revit model