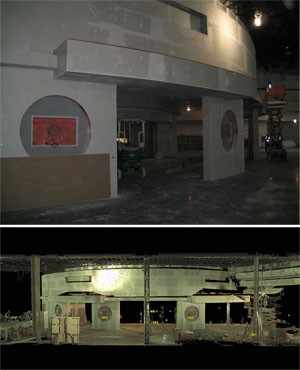 3D Laser Scanning of Interior Facade
Case Study: 3D HD Laser Scanning of Interior Facade
Location: Columbus, Ohio
Task: To scan a complex-shaped wall feature so that steel components could be pre-fabricated to fit the wall correctly on first attempt.
Challenge: The complexity of the wall—which includes curved features, circular insets and various turns and angles—made it difficult to accurately capture the measurements in enough detail in order to design and construct a steel structure to be overlaid and attached to the wall. Due to time constraints of the project and the fact that the steel was not being fabricated locally, it was imperative that the overlay structure fit perfectly on first attempt to attach it to the wall.
Solution: TruePoint used 3D laser scanning technology in order to scan the entire wall in a matter of hours. Then, TruePoint created a 3D CAD model to be used to precisely fabricate the steel overlay.
Deliverables: TruePoint provided the client with a 3D CAD model, importable into SolidWorks. Additionally, through the use of the scanner's on-board camera, TruePoint was able to provide the client with a TruView, which is a 3D photograph overlaid on top of the point cloud (raw data). Using an Internet Explorer plug-in that is provided to the client for free, the client is able to access the 3D photo and can move it left/right, up/down, zoom in/out, and even take rudimentary measurements and do text mark-up on it. A TruView is extremely beneficial in situations where the client is not on-site or is unfamiliar with the site. The TruView is also helpful if the client wants to hone in on a specific detail or collaborate with others using the text mark-ups.
Added Value: Since the fabrication firm was located out of town, it was not feasible for them to make multiple trips to the site in the event a measurement was missed or needed to be retaken. Laser scanning, however, captures millions of points indiscriminately along the features of the wall, which allows for measurement between any of the points. The clients can use this information in the future as well, for other projects. Laser scanning eliminated the need for revisits to the site, captured much more information than traditional methods and was safer, quicker and more accurate. Furthermore, since laser scanning can be done unobtrusively, construction work in the area was able to continue unhindered.
If you have a fabrication project that has complex shapes or angles and needs accurate dimensions and detail; is on a tight schedule; or is remotely located, call TruePoint at 614-800-0378 or columbus@truepointscanning.com to discuss.