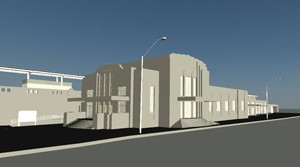 3D Revit Model - Train Station Entrance
Case Study: 3D As-Built Modeling: Using High Definition Scanning (HDS) to produce Revit Model
Location: Oklahoma City, Oklahoma
Task: To complete a 3D survey of a historic Oklahoma City landmark in conjunction with OKC's urbanization efforts.
Challenge: Elevated railroad tracks accompanied by an underused train station stand between a popular entertainment district and access to the downtown convention and business districts. The client was looking to revitalize the train depot and use its proximity as a gateway between neighborhoods but capturing the existing conditions of the active railway proved to be difficult to traditionally measure due to safety concerns, time constraints, and feasibility (shut down railroad).
Solutions: TruePoint 3D laser scanned the interior and exterior of the train station, train platform, and the entire surrounding block. Our Architects, Engineers, and BIM coordinators then produced a 3D Revit model directly off of the point cloud. This proved to be an effective workflow, minimizing time and cost to traditionally measure on-site as well as the post fieldwork. Existing Information captured in the point cloud has a higher accuracy than using existing drawings. With an accuracy of 1/16", TruePoint was able to produce an accurate as-built model, granting the client liberty to work on other projects while TruePoint built the model.
Deliverables: A black and white point cloud (.rcp, .rcs, .e57 file formats); 3D Revit model of the interior, exterior, and train platform; TruView's of building, platform, and site
Added Value: Leica brand laser scanners are great non-contact measuring devices that allow scan technicians to capture an exuberant amount of information at safe distances- up to 360' with the Leica P20 model and up to 900' with the Leica C10 model. In this project, an ample amount of information was captured in the subject areas of interest (building interior and exterior, retaining walls, train platform canopy, etc.) as well as information that otherwise would be dangerous, if not impossible to obtain. This "bonus" point cloud data included the railroad tracks, river-walk, heights of surrounding buildings, and high traffic areas- all without compromising safety and ongoing activity! The client was pleased to receive this information for future design phases and design collaboration with other project teams (landscape architects, city planners, real estate developers, general contractors, etc.).
If you have a building renovation, historical preservation, urban planning, façade restoration project or other laser scanning needs, contact TruePoint Laser Scanning at (214) 551-6201 or oklahomacity@truepointscanning.com to discuss your project needs.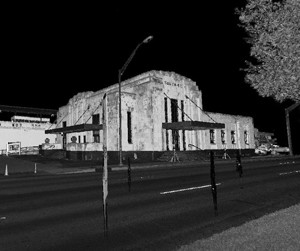 Black and White TruView - Train Station Entrance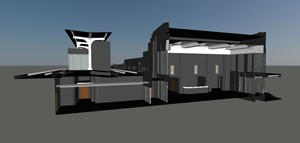 3D Revit Model - Section Cut through Train Station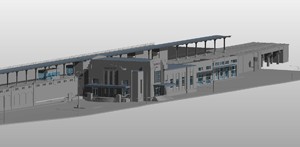 3D Revit Model – Overview of Train Station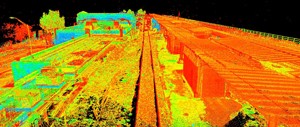 Intensity Point Cloud - Train Platform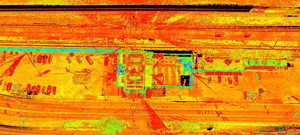 Intensity Point Cloud – Plan View of Train Station Site