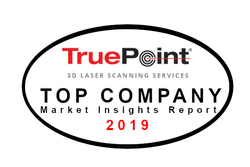 TruePoint Named Top Company in Laser Scanning
TruePoint has been named as one of the Top Companies in the Global 3D Laser Scanning Services Market, according to Market Insights Reports.
The report presents the market competitive landscape and a corresponding detailed analysis of the major vendor/3D Laser Scanning Services players in the market. The major market players are evaluated on various parameters such as company overview, product portfolio, and revenue of 3D Laser Scanning Services from 2019 to 2025.
Founded in 2008 by Ryan Hacker, TruePoint has earned the business of some of the largest companies, including manufacturing and industrial facilities, process and power plants, refineries, health care, water treatment facilities, universities, stadiums, historical and construction sites, to name a few.
"TruePoint is honored to be recognized as a Top Company 2019. Our success is fueled by our passion for providing unmatched 3D laser scanning services, ensuring complete client satisfaction," Hacker states.
Contact TruePoint Laser Scanning at 419-843-7226, view our Nationwide Directory or complete the Request a Quote Form.
To learn more about a career at TruePoint and view open positions, click here.
Source: https://markettrendsnews.com/2019/05/3d-laser-scanning-services-market-outlook-and-opportunities-in-grooming-regions-edition-2019-2025/