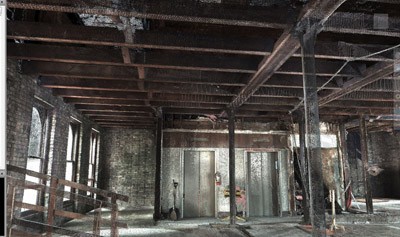 Colorized Point cloud of interior scan for historical preservation and documentation
Case Study: Creating As-Builts for a Historical Building
Location: New Orleans, Louisiana
Task: To capture and document the existing conditions of the historical building's interior and exterior.
Challenge: Creating as-builts and documenting the existing conditions of a historical building can be a daunting and tedious process. This property was multiple stories and consisted of three individual buildings that, over time, were combined into one space.
Solution: Using Leica brand scanners, such as the C-10 and P-20, not only was TruePoint able to capture the dimensions of the entire space, but additionally, by using the on-board camera, TruePoint could also create 360° photos for historical documentation purposes. Historical documentation and preservation is an excellent use of laser scanning technology. Laser scanning can be much faster and more thorough than taking manual field measurements, and it results in less expensive, as well as more precise, results.
Deliverable: The client received a variety of Point Cloud files (.pts, .pcg, .ptx, .rcs, and .rcp file formats) importable into several of their Autodesk products, as well as a 3D Revit Model of the structure and TruViews (3D photographs).
Added Value: Historic structures tend to have settlement issues which can affect the building's structure over time. After scanning was complete, TruePoint learned of the client's interest in studying the flatness and levelness of the floors. Since laser scanning indiscriminately captures anything within its line of sight, our scan technician had done just that, and our lead Structural Engineer was able to pull together a floor flatness analysis for the client. Instead of the client needing to hire another company to mobilize to the site to complete this additional work, TruePoint was able to use the existing data to give the client the information they needed – plus some. Since the Leica P-20 scanner that was used on this project captures 1,000,000 measurements per second, the data density of the floor was significantly more than what would have been captured using other methods. Instead of having one point every several feet apart, the laser scanner captures millions of points within millimeters of the other points. In this case, TruePoint saved the client time, money, and effort.
For historical documentation and preservation projects or other laser scanning needs, contact TruePoint Laser Scanning at 407-558-9716 or orlando@truepointscanning.com.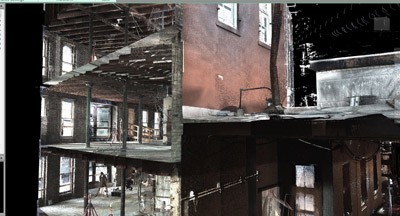 Cut Section of Raw Laser Scan Data showing building interior and exterior

Point Cloud of Exterior Façade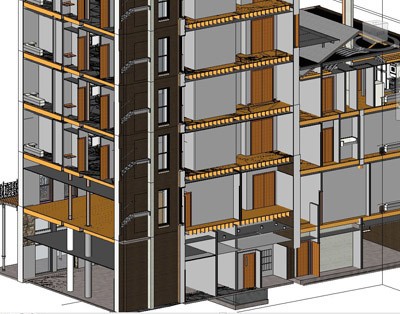 View of Revit Model of historic building