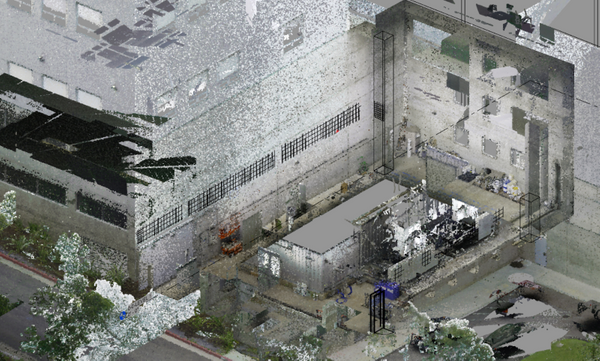 Above and Below Site Documentation for HVAC Upgrades
Location: Los Angeles, California
Task: A California high school required 3D laser scanning of the above-ground and below-ground infrastructure to create 2D CAD drawings and plan for HVAC system upgrades throughout the campus.
Project Application: The client required precise documentation of the surrounding structural elements and subsurface so they could design piping, reinforcing and coring in the least invasive way.
Problem:
A 12-year-old high school was replacing the piping on 16 HVAC units throughout the campus.
The piping for these units intricately runs in and out of buildings, and through retaining walls and mechanical yards.
The areas that they thread through do not have any as-builts or existing plans.
Solution:
Using the Leica RTC360 laser scanner, in less than 2 hours on site, a project manager captured elements of the surrounding campus and GPR markings.
This project was laser scanned in full color, allowing the client to easily visualize and identify structural elements, pipes, conduits and concrete reinforcement points inside the point cloud.
CAD engineers created 2D AutoCAD floor plans and exterior elevations, PDFs with and without the point cloud overlayed.
Benefits:
The combination of laser scanning structural and ground penetrating radar markings provided the client a high-definition 3D comprehensive view of the campus, both visible and invisible.
With 3D laser scan data, the client can verify the HVAC mechanical equipment with confidence knowing high accuracy instruments minimize position error throughout the 3D space.
The client has the most up-to-date, accurate and comprehensive information to design HVAC upgrades.
Project Manager Testimonial:
As-built documentation of the high school campus and GPR markings can be captured quickly and accurately to plan for HVAC system upgrades. -- Chris​ Sanford | Business Development Manager | Southern California
For 3D laser scanning services in California, contact us below: