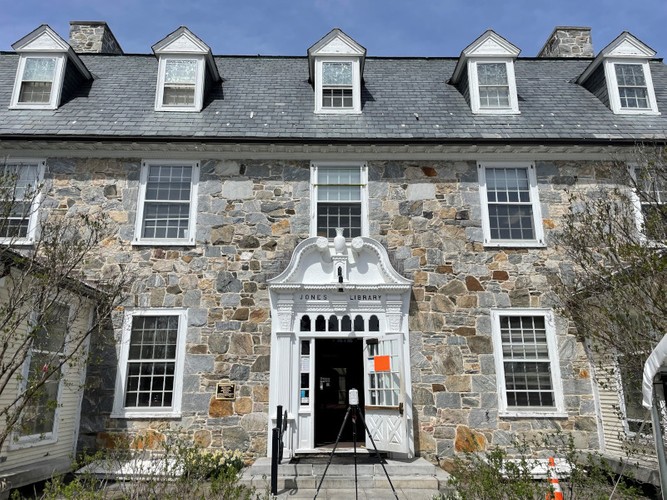 3D Laser Scanning Historic Library
Location: Amherst, Massachusetts
Task: TruePoint 3D laser scanned a historic library in Amherst, Massachusetts and created an LOD 300 Revit model for the architect. The interior and exterior of the library was 3D scanned, this was an estimated 47,000 sq. ft. of space with 4 levels. The key features the architect wanted captured were basic structural elements, including exposed columns and beams, basic architectural features, and lighting and plumbing fixtures.
Challenge: The project architect was tasked with renovating the library. The client needed updated floor plans and a 3D model to begin redesigning the library. The renovations must keep the library's historic features intact. The library is open to the public and the architect did not want to disrupt the library or its occupants. Laser scanning was executed on Patriot's Day, a Massachusetts state holiday. The library was closed for this occasion and all scans were able to be completed in one day on site.
Solutions: TruePoint used the Leica RTC 360 laser scanner and P40 Leica ScanStation to capture 292 laser scans of the library and deliver an intensity map point cloud and an LOD 300 3D model to the client, giving them accurate data of the current conditions of the building and features.
Deliverable: The client received an LOD 3D model, intensity map point cloud and TruViews. The data was delivered on an external hard drive.
Added Value: The architect did not have to send out their own employees to field measure a building that was built in 1919, which could have a lot of unsquared features through its architecture. All measurements were captured quickly and efficiently during closed hours, meaning no occupants were disrupted during TruePoint's time on site. The library contains an art gallery that holds paintings and works of Emily Dickinson, Robert Frost, and local history exhibits. It was important that this artwork was untouched. The rooms that hold these works must remain very dry with virtually no humidity in order to ensure the preservation of the art pieces. A ready to use LOD 300 Revit Model was quickly delivered for the architects to immediately begin redesigning the historic library.
For 3D laser scanning services in Massachusetts, call 617-571-6225 or email boston@truepointscanning.com.