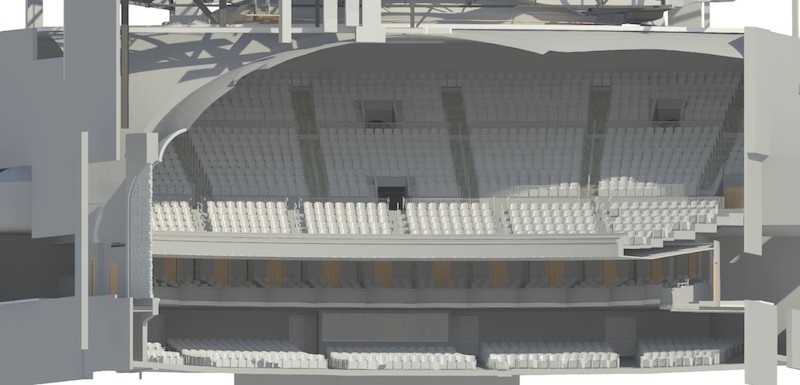 3D Revit model of auditorium seating.
Case Study: 3D Laser Scanning As Built Conditions of a Theatre
Location: Detroit, Michigan
Task: TruePoint captured the as built conditions of a Michigan theater, including all levels of the auditorium, stage, seating, floors, walls, interior envelope, backstage rooms, curtain system, attic, ductwork, and mezzanines. TruePoint technicians utilized 3D laser scan technology to capture point cloud data, then our team of CAD Technicians created an LOD 300 Revit model of the 25,000 SF space. The theatre owners were planning to modernize the historic theatre, as well as fabricate updates to the mechanical systems.
Challenge: As is the case with most older structures, up-to-date as-built documentation did not exist. The lead architect for the project sought 3D laser scanning services to have the project virtually represented. They required precise details of every aspect of the theatre in a digital twin, for example, the mounting where the seat meets the floor.
Solutions: This was a challenging environment for traditional measuring methods due to the vast size, high ceilings and catwalk access to the attic space. 3D laser scanning was the best choice for fast and accurate as-built documentation. Utilizing a combination of both the agile Leica RTC360 scanner, as well as, the long-range and survey grade Leica P50 scanner, TruePoint conducted 564 laser scans to document the entire theatre.
Deliverable: TruePoint provided the client with a fully registered intensity map point cloud, JetStream Viewer files (.lgs file format), and an LOD 300 Autodesk Revit model. JetStream Viewer is a self-contained viewer software that allows the user to view 360o 3D photographs overlaid on top of the point cloud data from each scan location.
Added Value: The 3D laser scan of the theatre was done in only a couple of days, whereas, a hand measured depiction of the same building would have taken weeks, if it was deemed even physically possible. A professionally acquired and registered point cloud and accurate 3D model will accelerate the design phase for architects, allowing them to create mechanical, electrical and structural plans quickly and accurately. By incorporating laser scanning into the very beginning of the project, potential guesswork is eliminated - architects can design and plan with confidence.
For 3D laser scanning services in Michigan, call 734-807-0117 or email detroit@truepointscanning.com.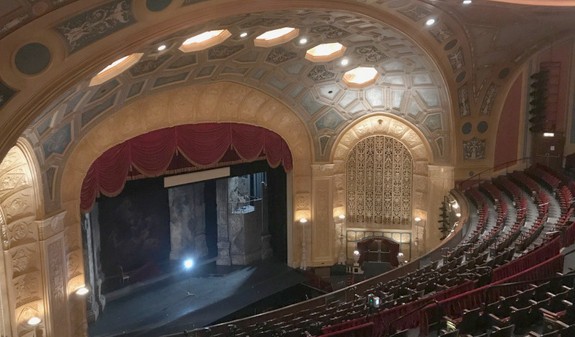 View of auditorium looking down to the stage.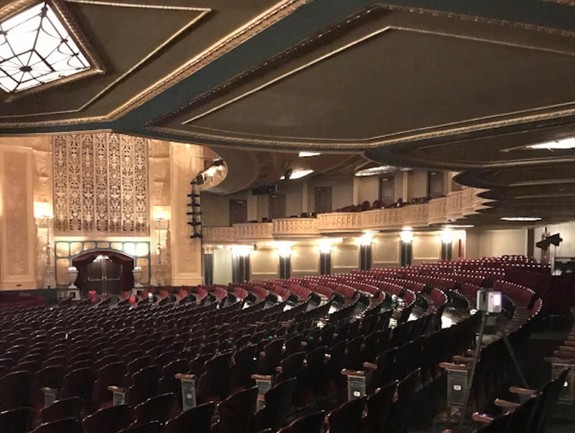 Leica RTC360 capturing level 1 seating detail.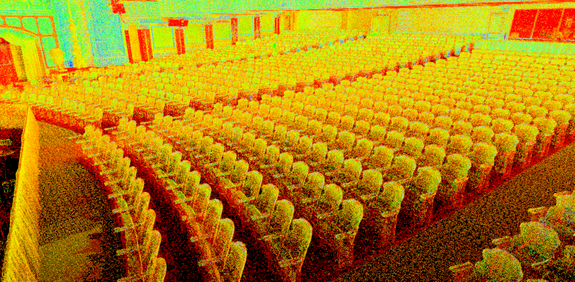 Intensity map point cloud of level 1 searing.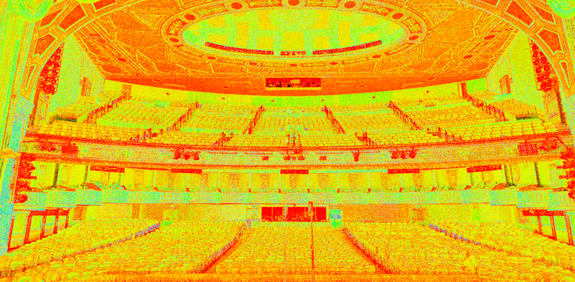 Intensity map point cloud from the perspective of the stage.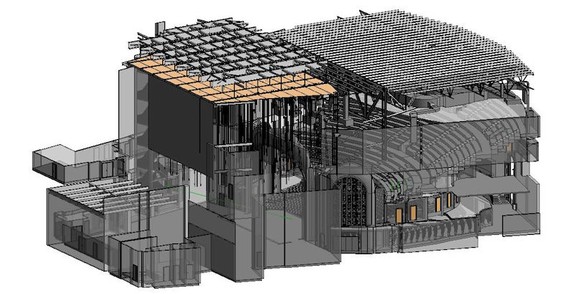 3D Revit model of the theatre with walls turned semi-transparent.
An image showing theatre's fly system.